Web Application Autohost 5.0 part 1
Morning all,
I just would like to tell you about a little product that I have found that deals with everything that you need to become a basic web host.
You look at many products, and there are alot out there, these range from WHMCS to WHMautopilot. I have tried many but being a PHP coder
and like to do things for myself I keep coming back to the same thing…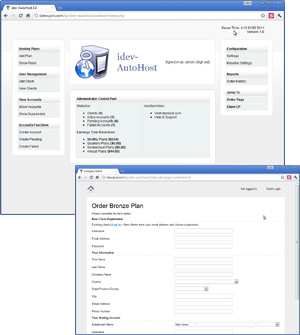 This answers virtually everything I need, but it allows me to get in and change the things I need to make it work for my site.
The latest version is Autohost 5.0
My last version I used was 1.19 and I can see alot thought has gone into the upgrades :
The GUI is alot clearer, unfortunately it still uses tables rather than divs in alot of places, but it works very effectively. The product runs very fast and seems to connect through to WHM without any problems at all.
The added feature of being able to import accounts direct from the server is an excellent addition. The customer panel is very clean and easy to follow, although again lacks some personal features I would like to see. This product is designed for selling of hosting with existing domain names, and there is no feature for adding domain registration to products. I myself have written an addon into my site to do this for all new accounts. But for $29.99 what would you want ? I also think with the great jQuery a few extra validations could make this product even more customer friendly. Stick around to learn a few additions i have made to the site…
I have also been using WHM autopilot which I believe is a great product, but is also very complex to use.
You can purchase it here : idev-autohost
This product is amazingly good value for money…
I am not going to tell you how to install the product as the instructions are all there..
In my next POST I am going to go through a few alterations that I have made to
my idev-autohost 5.0 to make
it (what I believe more user friendly).
I do believe that even without these changes, anyone that is setting up there own little hosting company would do well to try out a demo, or purchase it.
On a final note this product is only $29.99 including support.
For other products you can pay $200 + or rental at $29.99 a month.
These product may do more and self run, but like I say with a few
personnal tweaks this product can be just as good.
Again the download link is : idev-autohost