Bond's Barbershop
Bond's barbershops are a group of award winning gentlemen's barbershops based primarily in Dorset.
They currently have 9 barbershops in Dorset and Hampshire alone, and are seeing rapid growth at the hands of their fantastic ownership.
They had an existing website which they felt was a little bit dated and difficult to navigate, and were using Booksy to deal with all their bookings.
Apple M1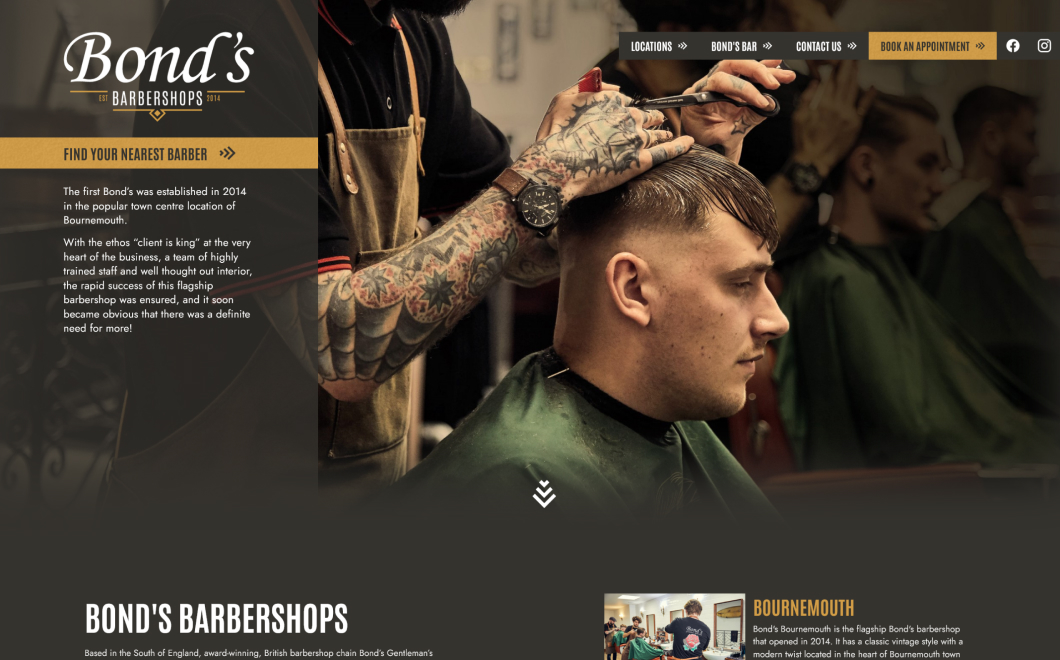 Caps lock
A
S
D
F
G
H
J
K
L
;
'
Return
A

b

o

u

t

t

h

e

P

r

o

j

e

c

t
Bond's owner Mike Taylor came to us because he wanted to refresh his brand and website to better reflect the modern yet classy feel of the barbershops.
We worked with Mike to create a full branding package, including updating his logo & colours, fonts as well as signage and print material. We've since worked together on many marketing projects including newspaper articles, posters and social media posts.
Once we'd finalised the branding of the company, we moved on to the website design. This was following a full design process, which involves wireframing to ensure we've created a perfect user flow, and a stunning website mockup design using Figma.
Mike was thrilled with the website design, so we began building the website. This involved integrating their booking system of choice, Booksy, into our AdminUI e-commerce solution. Bond's have since switched to Squire for their bookings, which we happily helped Mike to switch over on the website, and are seeing increased growth since making the switch.
T

h

e

R

e

s

u

l

t

s
The end result now moves Bond's into a premium position which appeals to all ages with a modern yet classy twist. The new shop fronts and signage have also helped Bond's stand out from the crowd, whilst ensuring that customers enter a unique setting that is warm, friendly and inviting.
Other marketing material such as the advertising and literature also carry the new brand across to further attract customers to the barbershops. We're also applying this brand across social media to make sure that all material seen by customers maintains a clear message of quality, service and incredible value.